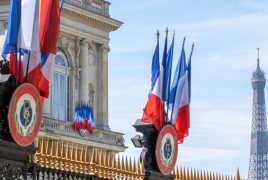 November 27, 2020 - 11:24 AMT
PanARMENIAN.Net - Paris does not recognize the independence of Nagorno-Karabakh (Artsakh), the French Foreign Ministry said Thursday, November 26, reaffirming the statement of State Secretary Jean-Baptiste Lemoyne.
He made the comments after the Senate adopted a resolution Wednesday calling for the recognition by the French authorities of the Nagorno-Karabakh Republic.
"Our responsibility as a co-chair of the OSCE Minsk Group is to work towards finding a negotiated settlement of the Nagorno-Karabakh conflict, in particular, on the future status of Nagorno-Karabakh, and the outcome of this negotiation can't be determined ahead of time and unilaterally. Our priority today must be to ensure the safe return of those displaced by the conflict of the past few weeks," the Foreign Ministry said.
"A responsible country, faithful to its values and its commitment to peace, France remains determined to see a lasting settlement of the conflict, demanding security and dignity for the peoples of the region. France will continue to do everything in its power to stabilize the situation in the South Caucasus. It will remain committed, within the relevant framework of the co-presidency of the Minsk group, to move forward on all the parameters still to be negotiated following the ceasefire agreement reached on November 9, in particular, the departure of foreign mercenaries deployed during the conflict or the protection of historical and cultural heritage in the region."
Armenian Prime Minister Nikol Pashinyan, Russian and Azerbaijani Presidents Vladimir Putin and Ilham Aliyev on November 9 signed a statement to end the war in Karabakh after almost 45 days. Under the deal, the Armenian side is returning all the seven regions surrounding Nagorno-Karabakh, having lost a part of Karabakh itself in hostilities.