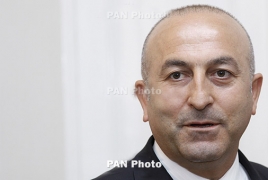 February 25, 2021 - 16:40 AMT
PanARMENIAN.Net - Turkey on Thursday, February 25 described the events in Armenia as "a coup attempt" and strongly condemned it, RIA Novosti reports.
Turkish Foreign Minister Mevlut Cavusoglu said no matter where in the world a coup is taking place, "we condemn it."
"You can criticize, demand the resignation of the government, which is normal," Cavusoglu said, adding that an army making calls for overthrowing a government is unacceptable.
Armenia is facing a serious political crisis after the country's top military brass demanded Prime Minister Nikol Pashinyan's resignation. The PM, however, claims he had already dismissed the chief of the Army General Staff. The parliamentary opposition has already weighed in on the matter, urging against bloodshed and calling for a peaceful transition of power.