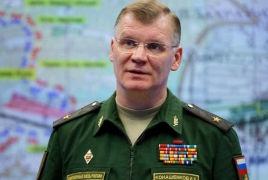 February 25, 2021 - 20:24 AMT
PanARMENIAN.Net - All the Iskander missiles that the Armenian army possesses are stored in warehouses, said the representative of the Russian Defense Ministry, Igor Konashenkov.
"According to the objective and reliable information we have, also confirmed through the objective control system, none of the missile systems of this type were used during the conflict in Nagorno-Karabakh," Konashenkov said.
According to him, the Russian Defense Ministry was "surprised and bewildered" by Armenian Prime Minister Nikol Pashinyan's claims that the Iskander missiles used in Nagorno-Karabakh by the Armenian side did not explode or "exploded by 10%".
"Apparently, Pashinyan was misled, and ended up using inaccurate information," Konashenkov added.
Pashinyan made the remarks in a recent interview and was contradicted by the First Deputy Chief of the Army General Staff, Lieutenant General Tiran Khachatryan. On Thursday, February 25, the country's top military brass demanded Pashinyan's resignation. The PM, however, claims he had already dismissed the chief of the Army General Staff.