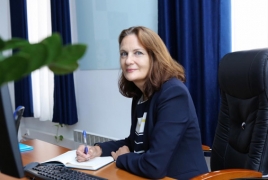 March 9, 2021 - 10:49 AMT
PanARMENIAN.Net - UNICEF's mission head in Armenia Marianne Clark-Hattingh has left the country in a hurry, Foreign Ministry spokesperson Anna Naghdalyan told PanARMENIAN.Net on Tuesday, March 9 morning.
According to Naghdalyan, Clark-Hatting's failures and non-cooperative work-style were problematic for the Armenian side, so the government decided to terminate her role as the Representative of the UN children's fund in Armenia.
"The decision has been communicated to the UN Resident Coordinator and UNICEF representatives," Naghdalyan said, providing no more details.
Telegram channels wrote earlier that Clark-Hattingh spied for Azerbaijan and Great Britain and is now declared a "persona non grata" by the Armenian authorities.
Clark-Hattingh assumed leadership of the UNICEF Armenia country office in July 2020, following her time, serving as Representative, at UNICEF Malaysia office from 2016-2020.