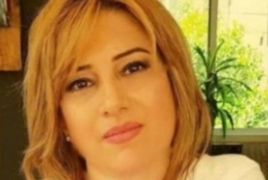 March 12, 2021 - 16:13 AMT
PanARMENIAN.Net - Lebanese Armenian Maral Najarian, who was released from Azerbaijani captivity four months after being kidnapped in Nagorno-Karabakh, has shared her experience and details from her and a taxi driver's abduction in the city of Shushi: "I thought they were going to burn us alive."
In an interview with Shant TV, Maral said she and the driver, Viken Euljekian, were surrounded by Azerbaijani troops immediately after reaching Shushi, where the two were heading to fetch belongings they had left behind during a hasty evacuation.
Maral and Viken were told they would be free to go if everything was alright, but were thrown into a car after the Azeris found images of Viken wearing his volunteer's camo and accused the two of being "terrorists".
"They beat Viken, then we were forced into an SUV. There were gas cylinders in the car, and then they closed the doors and windows. My eyes were open, Viken's were closed. I thought they were going to burn us alive. I was so scared, I had no hope of surviving, but I was praying to God to give me strength and ability to endure," Maral remembered.
According to her, she was treated a little better when transported to Azerbaijan, although not "extraordinarily well".
Several dozen Armenian POWs have returned from Azerbaijan so far, although Armenian officials say many more people were being held in Baku. Azerbaijani President Ilham Aliyev claims, however, that persons being kept in Baku are not prisoners of war but "terrorists and saboteurs". Human rights lawyer Siranush Sahakyan has said, meanwhile, that at least 120 Armenian prisoners of war are being held in Azerbaijan. The lawyer said there is enough evidence proving the capture of said persons, which the Armenian side will submit to international agencies and courts.