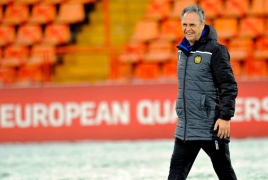 April 12, 2021 - 17:44 AMT
PanARMENIAN.Net - The manager of the Armenian national football team, Joaquin Caparros, has said the country must have faith in the work being done.
"They want to develop, and they know that this depends on the credentials of the coaches they have. They're doing great and we're seeing results that give credence to the president and everyone involved. It's the path we have to follow," Caparros said in an interview with FIFA when asked about the change in Armenian football.
"I still had time on my contract with Sevilla, but [technical director of Armenian football] Gines Melendez told me about the Armenia opportunity, so I met him and the president of the national federation. There was a good feeling and a sense of empathy, so we hit it off and came to an agreement quite quickly. They trust us and there's very smooth communication," Caparros says of the decision to embark on this adventure.
Armenia have now gone eight games undefeated since their 2-1 reverse to North Macedonia in September 2020. That fixture came in the 2020/21 UEFA Nations League, in which Armenia won promotion to League B.
Since then, the mutual affection between Caparros and Armenia has only deepened, helped by a dream start for the coach. "Getting promoted to UEFA Nations League B was reward for the work being done, but it was also unexpected because we were competing against quality teams like Georgia and North Macedonia. It was a success and provided a major morale boost for the country and the squad. It reaffirmed that Armenia must have faith in the work being done," said the coach.
The 65-year-old knows it is a time for calm heads, especially when you look back at what has happened so far in the evenly matched Group J. "Being in a group that throws up crazy results is good for us, but we know it'll still be very difficult. We're talking about teams with a lot of [good] players and a great deal of history, like Germany, who are always favorites."
And while he has only been in charge of Armenia for ten games, the Spanish coach has hit it off really well in the eastern European country. "From the start, everyone's been empathetic, from the president down to the coaching staff. It's a joy to go to team gatherings and be with the lads, because they're so committed."
Caparros has only good things to say about his day-to-day work with the national team. "We have an amazing academy. There are ten football pitches here, all maintained superbly, and a residential building with luxury rooms. Everything you need... We're very comfortable," he says.
Caparros was also asked what it would mean for Armenia to reach a major tournament like the EURO or World Cup. "Just winning promotion in the Nations League was very emotional, so I can only imagine what it would be like… However, I've not even thought about it. I've been in football for many years, so I know we have to take it one step at a time. So let the people of Armenia enjoy the victories, and let us focus on our working methods," he concludes.
Caparros is clearly proud of this Armenia team and the work they have done, so it will be fascinating to see just how far they can go together, FIFA wrote.