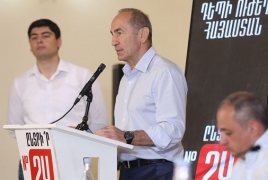 June 16, 2021 - 18:04 AMT
PanARMENIAN.Net - Head of Hayastan (Armenia) bloc, second President Robert Kocharyan has stressed the importance of launching "a very serious process" to boost Russia's military presence in the country.
Kocharyan told supporters on Wednesday, June 16 that Armenia used to have "a large weight" in the region, which has now diminished.
"Alongside the Russian military base, we must also increase our weight so that we are taken into account. That's the way the world works: if you are weak, you won't be reckoned with," the ex-President said.
He also weighed in on the growing role of Turkey, noting that the only country that can become a restraining factor is Russia.
Hayastan, Kocharyan's bloc, is comprised of the Armenian Revolutionary Federation and Reborn Armenia party.
Acting Prime Minister Nikol Pashinyan announced on March 18 that Armenia will hold snap parliamentary elections on June 20. The PM came under fire after signing a statement with the Russian and Azerbaijani Presidents to end the war in Nagorno-Karabakh almost 45 days after the start of the military hostilities. Under the deal, the Armenian side was forced to return all the seven regions surrounding Karabakh, having lost a part of Karabakh itself in hostilities.