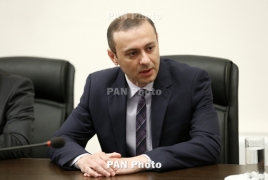 June 22, 2021 - 19:33 AMT
PanARMENIAN.Net - Secretary of the Security Council Armen Grigoryan has said in an interview with the Armenian service of RFE/RL that former Foreign Minister Ara Aivazian was "torpedoing" the return of the Armenian prisoners of war and hindering the settlement of Armenia's security problems.
"When still in office, Mr. Aivazian was claiming that the maps of minefields, which we have already given [to Azerbaijan], did not exist. When Mr. Aivazian resigned, we got to quickly settle the matter," Grigoryan said.
The Security Council chief charged that not only was the former Foreign Minister lying, but he also did not want to solve that issue. "He wanted to create problems for our political team. He left office during the fight, so to speak," he added.
Aivazian, however, dismissed Grigoryan's claims as "nonsense", Sputnik Armenia reports.
"I haven't listened to the interview, but if it is true, I do not comment on that nonsense," said Aivazian, not ruling out that he could comment on the matter in more detail after watching it in person, if necessary.