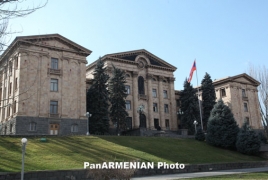 October 27, 2021 - 13:39 AMT
PanARMENIAN.Net - Armenia is commemorating the 22nd anniversary of the deadly parliament shooting, a terrorist attack on the Armenian National Assembly in the capital of Yerevan on October 27, 1999.
22 years ago today, the parliamentary question-and-answer session was shattered by shouts and the rattle of gunfire, when five heavily armed gunmen burst into the chamber, killing Prime Minister Vazgen Sargsyan, parliament speaker Karen Demirchyan, and several other leading politicians dead.
Shooting was heard in the streets outside the parliament, with people, police and ambulances beginning to flock to the building shortly afterwards. The terrorists took lawmakers and members of the government hostage and demanded that then Armenian President Robert Kocharian personally come to them for negotiations.
When direct negotiations between the leader of the terrorists Nairi Hunanyan and Kocharyan began, the former demanded two things: to go live, and the opportunity to surrender and get a fair trial.
On October 28, hostages were released from the parliament, while members of the armed group were arrested and transferred to the Ministry of National Security of Armenia.
Anna Israelian was also reporting from parliament that day, for the leading independent newspaper "Aravot," and 10 years later remembered the trauma of witnessing the murders.
"After leaving the parliament chamber together with RFE/RL reporter Ruzanna Khachatrian, we hid in the parliament's library. We used armchairs to barricade ourselves near the door and huddled together in one corner. It seemed to us that there were not only those five or six gunmen who had burst into the parliament chamber, but that it must have been a larger group," she recalls.
"We kept waiting for an attack. I was really horrified, because it was the first time in my life that I saw people being killed before my own eyes. It was a terrible stress that I haven't been able to overcome."