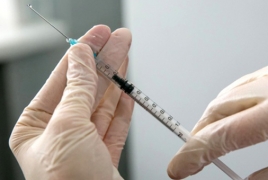 November 23, 2021 - 18:08 AMT
PanARMENIAN.Net - Israel began vaccinating children aged 5-11 Monday, November 22 afternoon, with the country's coronavirus czar saying it was a "celebration day for children and parents who can now protect their kids," Times of Israel reports.
Though the official launch of the vaccine campaign is on Tuesday, health providers started rolling out the shots for children at a number of locations across the country, days after the first shipment of kid-sized Pfizer-BioNTech doses arrived in Israel.
Health officials said several hundred children were vaccinated Monday and that appointments for vaccinations starting on Tuesday had been booked for 24,000 children — some 2.5% of those eligible in the age group.
Speaking to reporters Monday evening, coronavirus czar Salman Zarka, the person responsible for coordinating the country's preparedness and response to the virus, said parents should celebrate because the vaccine will not only provide protection to children, but also allow normal life to return.
"The disease is mild [in children], but there are cases where the disease can continue with long-term symptoms such as insomnia and muscle aches," Zarka warned.
Israeli approval of the shot for children came days after the United States Food and Drug Administration granted the vaccine authorization for the 5-11 age group.