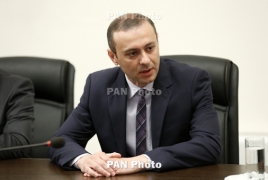 December 18, 2021 - 16:16 AMT
PanARMENIAN.Net - The provision of a "corridor" to Azerbaijan has never been discussed in Armenia, Secretary of the Security Council Armen Grigoryan said in an interview with the Voice of America, describing the subject as "fake".
The Azerbaijani side has on multiple occasions raised the question about a "corridor" through the southern Armenian province of Syunik that would connect Nakhijevan to the rest of Azerbaijan. The Armenian side, however, has repeatedly denied being involved in negotiations for the provision of a corridor to Azerbaijan, stressing that they have only agreed to unblock transport communications in the region.
"[The] Brussels [meeting of Armenian Prime Minister Nikol Pashinyan and Azerbaijani President Ilham Aliyev] confirmed to some extent that there is no such topic. It is not on the negotiating table, but it does affect the negotiation process itself," he said.
Weighing in on the future status of Nagorno-Karabakh, Grigoryan noted that the Armenian authorities consider it important to start discussions on finding ways of a long-term settlement of the issue under the auspices of the OSCE Minsk Group. When asked whether the problem could be resolved if the well-known principles of the OSCE Minsk Group on territorial integrity and the right to self-determination remain on the agenda, the Secretary of the Armenian Security Council answered in the affirmative, adding that it requires political will.