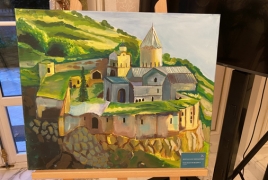 October 5, 2022 - 14:32 AMT
PanARMENIAN.Net - Azerbaijan's policy of appropriating Armenian heritage continues, this time at the country's embassy in France.
Ambassador Rahman Mustafayev on Monday, October 3 took to Twitter to share images from an event celebrating the town of Shushi, which was heavily bombarded and captured by the Azerbaijani military during the Second Karabakh War in the fall of 2022.
In particular, Baku's embassy in Paris hosted an exhibition where images allegedly showing Azeri heritage were being displayed. However, at least one of the canvas depicted the medieval Armenian monastery of Tatev in the southern province of Syunik, while an inscription claimed it was Dadivank in Nagorno-Karabakh, another Armenian monastery which remained in territories currently controlled by Azerbaijan.
The move comes amid Azerbaijan's constant territorial claims and aggression against Armenia, the destruction and desecration of hundreds of religious and historic monuments and Baku's campaign of historical revisionism.
The latest round of fighting between the two countries began in the wee hours of September 13, when the Azerbaijani military attacked Armenian posts and shelled Armenian settlements both on the border and deep behind the frontline. More than 200 people are dead or missing as a result, the Security Council of Armenia said on Monday.