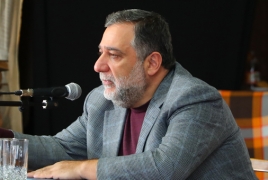 December 30, 2022 - 12:20 AMT
PanARMENIAN.Net - Karabakh State Minister Ruben Vardanyan has said that the closure of Lachin Corridor connecting Nagorno Karabakh to Armenia is a show organized by the government of Azerbaijan, and not really an environmental movement.
For almost 20 days now, the key road has been blocked by Azerbaijanis who claim to be environmentalists. Azerbaijan had also deprived the people of Karabakh of gas supplies.
Vardanyan said, however, that most of the people blocking the road are people who serve in special services in Azerbaijan.
"By the way, if people in France are interested and check [to see] how many environmental initiatives have taken place in Azerbaijan in the last 10 years, they will be surprised, because that number is zero," the State Minister said in an interview with France 24 on Thursday, December 29.
Vardanyan also weighed in on the criticism surrounding the work of the Russian peacekeeping force in Nagorno Karabakh, calling for a "bigger and stronger mandate" and encouraging the United Nation's involvement.
"You know, I have followed the work of peacekeepers in many countries, for example, the French, who have been sent to Africa many times, and we all know that this usually implies a limited number of soldiers, a limited mandate and limited rights to use weapons," he said.
"Therefore, on the one hand, the disappointment of the people is understandable, but at the same time, we must realize that without a broader mandate, without a larger number of soldiers, there will be no future. Therefore, I think that the blockade showed that a bigger and stronger mandate should be obtained, including from the UN."