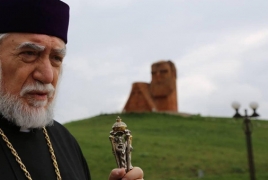 May 24, 2023 - 15:51 AMT
PanARMENIAN.Net - The Armenian Catholicosate of the Great House of Cilicia has expressed support for a statement issued by the National Assembly of Artsakh (Nagorno Karabakh), "rejecting any approach and effort to recognize Artsakh as part of Azerbaijan, especially by the government of Armenia and Prime Minister" Nikol Pashinyan.
"On December 10, 1991, Artsakh expressed its collective will for sovereignty through a popular vote, and then the Supreme Council of the Republic of Armenia on July 8, 1992 re-emphasized the sovereignty of Artsakh," a statement from the Catholicosate said Tuesday, May 23.
"According to international law, a nation has the right to self-determination. Therefore, the just right of the people of Artsakh to self-determination cannot become a victim of the attempts to establish a comprehensive peace within the region and to recognize the territorial integrity of Azerbaijan."
The Armenian Apostolic Church too joined Nagorno-Karabakh's leadership and the Armenian opposition in condemning Pashinian for his readiness to recognize Karabakh as part of Azerbaijan, RFE/RL's Armenian service said.
Pashinian admitted his intention to sign a corresponding Armenian-Azerbaijani peace treaty during a news conference held on Monday.
The church's Supreme Spiritual Council described his stance as "unacceptable" in a statement released after an emergency meeting chaired by Catholicos Garegin II.
"By recognizing the Republic of Artsakh as a part of Azerbaijan, the Armenian authorities would inevitably leave our brothers and sisters in Artsakh facing a new genocide and loss of the homeland," read the statement. "The independence of Artsakh and the territories of Armenia gained at the cost of the blood of our children are not subject to bargaining."
It urged the Armenian government to "abandon this defeatist intent." "We believe that a decisive expression of the will of our people on this issue is imperative," added the statement.