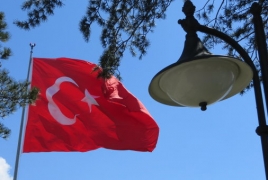 April 23, 2016 - 11:35 AMT
PanARMENIAN.Net - Turkey's Ministry of Foreign Affairs said on Friday, April 22 that U.S. President Barack Obama's comment on the 1915 Genocide against Armenians represented a "one-sided interpretation of history," Anadolu Agency reports.
"Today we solemnly reflect on the first mass atrocity of the 20th century—the Armenian Meds Yeghern—when one and a half million Armenian people were deported, massacred, and marched to their deaths in the final days of the Ottoman empire," the White House said Friday, failing, however, to characterize the killngs of Armenians as Genocide.
In a written statement, Turkey's Foreign Ministry said Obama's statement was a new example of a one-sided history telling of the "pain suffered during the World War I".
"Turkey has shown the will to build a joint future with peace based on the shared living experience for centuries between Turkish and Armenian nations," the Ministry said. "It is sad that friend and allied countries encourage the circle that [aim] to deepen the conflict instead of answering [Turkey's] call. It is obvious that the efforts to politicize the pain suffered in history do not do any good to anyone so far."
Read also:Obama fails to keep Genocide recognition promise for 8th year