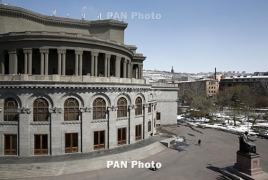 January 13, 2017 - 15:48 AMT
PanARMENIAN.Net - Yerevan is blooming, said National Geographic as it unveiled 6 surprising food destinations on (almost) every continent.
"The capital of Armenia — a tiny country whose natural beauty, culture, and burgeoning tourism industry landed it on our recent list of 10 places that deserve more travelers — has charm in spades and enough places to eat to keep your belly happily filled," the publication says.
For a day of good eating, National Geographic advises to choose Charles Aznavour Square as your center point and fan out from there.
"Armenia is known for khorovats, meat grilled on a skewer, and the place to get the best khorovats in Yerevan is Proshyan Street (which becomes Paronyan Street). Barbecue Street, as it's known, is lined with khorovats restaurants and roadside grills," the magazine says.
Also, it urges visitors to spend an afternoon—or more—in the neighborhood around the Cascade, a massive stairway that links the Yerevan city center to the Monument neighborhood, which boasts an abundance of international eats and lively bars.
Also among the cities with flavorful food scenes are Budapest (Hungary), Detroit (the United States), Santiago (Chile), Dakar (Senegal) and Wellington (New Zealand).