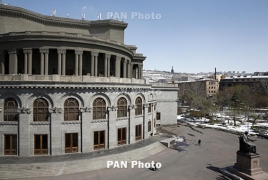 October 31, 2017 - 12:04 AMT
PanARMENIAN.Net - JAMnews has prepared an article about immigrants from across the globe who have chosen to live in Armenia, which has become a save haven for foreigners.
The feature starts with Lamarana Jiba, 27, who moved to Armenia seven years ago from Guinea. She begins to cry when she talks about her homeland and her family she has left behind. But a smile comes appears on her face when her son Alvin runs up to her, saying 'Mom, let's go!' in Armenian.
"I love Armenia. It's safe and quiet here. It's my second home. My son Alvin was born here three years ago. He speakers better Armenian than I do, and goes to kindergarten. He has friends here, and is a citizen of Armenia. I met my husband here, [who is] also from Guinea. He is a programmer by trade, but he couldn't find work here in his field. He works as a DJ in Yerevan in order to provide for us," she says.
Lamarana worked in a laboratory in Guinea. Her life turned upside down when conflict erupted in her country. It was then that she met an Armenian who offered to help relocate her to Armenia.
The Coordinator on External Relations of the United Nations High Commission for Refugees Anahit Hayrapetyan says:
"Armenia is a small country and is currently under a blockade; it has a number of economic problems and yet a number of foreigners from a number of far-away countries for various reasons come here, largely because of conflicts and wars in their home countries … Armenia then becomes their second home."
61-year-old Paola left her family in Cuba and has been working for three years in Armenia. She says that she was promised to be taken to Russia, but instead she ended up in Armenia, which she hadn't even heard of before.
"Armenia is now my country. In terms of integration I feel great here. People here are sociable, friendly and accepting. And everything is still great. In Cuba I worked in construction and I was going to retire soon. Here, I'm looking for work, but not knowing the language creates some pretty serious problems. It's a difficult language, and you have to work on it in order to learn it," says Paola.
An accountant by profession, 41-year-old Arlet from the Congo moved to Armenia together with her daughter. They lived here for seven years and left only a few months ago. When we met while they were still here, Arlet said that she found out about the existence of Armenia through the internet.
"I like Armenian food like lavash and tolma. I have good friends; Armenians are nice, they help you out if you need it. The only thing they can't learn to do is not be surprised when they see dark-skinned people. My daughter went to school here … and several times during dance classes I saw how the other parents wouldn't let their kids holy my daughter's hand…" she said.
The Swiss humanitarian fund KAZA helps with Armenian language instruction. Working for those who are looking for refugee status in Armenia and for those who already have refugee status, KAZA organizes a 'Join in Society' program with the help and support of the UN Fund.
"The program consists of three components: a course in the Armenian language, inter-cultural, monthly meetings and master classes. This is all connected to inter-cultural integration, variety and development. We organize tours around Yerevan and outside of it as well at least three times a year," says the leader of the program Sona Khlgatyan.
The program is, for the most part, meant for emigrants who live in shelters and have been waiting for a long time to find out whether they'll receive emigrant status or not. This is often a stress factor for people. The main aim is to change up people's daily routine and to make them more motivated and interested in order to better adapt to life in Armenia.