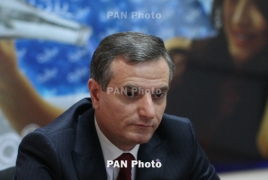 December 5, 2017 - 17:08 AMT
PanARMENIAN.Net - Armenia has tentatively agreed with Russia to not divulge the list of weapons to be acquired under a $100 million loan agreement, deputy defense minister Artak Zakaryan said on Tuesday, December 5 during discussions on the matter.
Armenia will be able to use the credit line of up to $100 million in 2018-2022. With the sum, the ministry will be able to finance up to 90% of defense contracts on Russian arms.
The Russian side said it would publish data on arms shipments, but the Armenian side reached a preliminary agreement on non-disclosure, Zakaryan said.
The agreement should work faster than the $200 million one, signed earlier. The negotiation on the purchase of armaments began retroactively and lasted for two years. This time, the sides first held talks and only then agreed on a loan, the deputy minister stressed.
"Pre-orders for armament of regional significance have already been made," Zakaryan said, adding that no delays are expected from the Russian side.