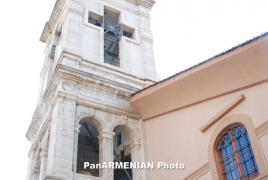 January 24, 2018 - 14:14 AMT
PanARMENIAN.Net - By the decision of the Armenian Patriarchate of Constantinople, all the Armenian churches of Turkey will pray for the success of the Operation Olive Branch by the Turkish military and the Turkish-backed Free Syrian Army in the Syrian city of Afrin, and the safety of the soldiers.
Turkish lawmaker of Armenian origin Markar Esayan shared the Patriarchate's decision on Twitter.
The Patriarchate also said they will pray for "the elimination of terrorism, the establishment of peace, Turkey's territorial integrity and the unity of the Turkish people."
Code-named by Turkey as Operation Olive Branch, the offensive is against the Kurdish-led Democratic Union Party in Syria (PYD), its armed wing People's Protection Units (YPG), and Syrian Democratic Forces (SDF) positions surrounding the Syrian city of Afrin.