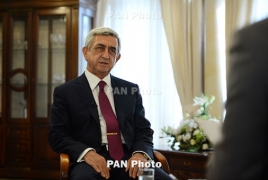 April 16, 2018 - 17:23 AMT
PanARMENIAN.Net - The third Armenian president and the candidate for the new Prime Minister, Serzh Sargsyan, stated that he is ready to take the new role in the country during his interview with Russian Izvestia.
"Our party members approved the suggestion made by Karen Karapetyan during the party sessions. I am ready to pursue such a responsibility", said Sargsyan.
The ex-president also added that nothing lasts forever.
"As along with my main responsibilities, of course in case my candidacy is approved in the parliament, I plan to dedicate lot of time to sharing my experience which I gained during different positions I held over years. This is very important. We need to think about worthy young politicians who are within the party and outside of it. We have a lot of work to do in benefit for Armenia", stated Sargsyan during his interview.
The Armenian opposition holds mass protests against the ex-president Serzh Sargsyan becoming the new Prime Minister. Since the morning of April 16 the opposition has been making protests in the center of Yerevan. The parliament where Sargsyan's party has majority will be electing the Prime Minister on April 17.