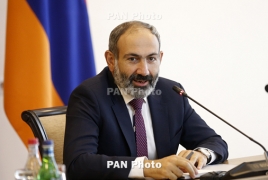 July 23, 2018 - 11:33 AMT
PanARMENIAN.Net - The Prime Minister's family will host one of the participants of a new program launched by the Diaspora Ministry, which organizes educational and awareness raising trips for young Armenians living abroad.
The initiative, called Take A Step Towards Home, will replace the programs "Ari Tun" (Come Home) and Diaspora Summer School, held in previous years.
According to Minister Mkhitar Hayrapetyan, an unprecedented number of kids - 500 youth and teens - have expressed a desire to come to Armenia.
Hayrapetyan said in a Facebook post that he hoped families other than PM Nikol Pashinyan's will be willing to host the children, aged 13-21.
Anna Hakobyan, the Prime Minister's wife, posted her own message on Facebook, encouraging others to provide temporary housing for the youth living in the Diaspora.
The new program has two components: educational and awareness raising. The first one consists of intensive Armenian language courses, while the awareness raising component offers tours to cultural, historical and contemporary sites.
Participants will mainly stay with host families throughout the programme and are set to participate in outdoor camping in the last four days.