PanARMENIAN.Net - 30 years later, in 1927, a weightlifting group was established at Armenia's republican sports committee. The next year, the first republican championship took place in Yerevan. Armenian weightlifters started participating in USSR championships in 1928 and joined European competitions in 1947.
Hripsme Khurshudyan was the first Armenian woman to take part in the weightlifting competition in 2001.
In 2016, the Armenian national team showed its best result, winning the European Championships.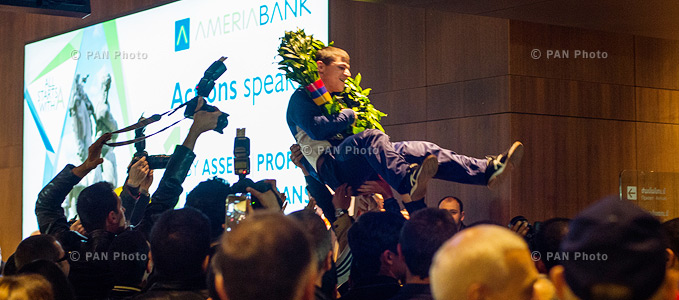 Andranik Karapetyan, European champion
In the Norwegian city of Forde, Armenian weightlifters won 8 gold, 7 silver and 3 bronze medals. Turkey came 2nd, followed by Ukraine. Andranik Karapetyan won the champion's title, while Tigran Matrirosyan got silver. Vanik Avetisyan won a bronze medal; Gor Minasyan and Simon Martirosyan won two silver medals and a bronze respectively.
Andranik Karapetyan, European champion
Women's team won the team event with 449 points; men came second to follow Russia. Hripsime Khurshudyan and Nazik Avdalyan became European champions.
PanARMENIAN.Net talked to some of the chief coaches and weightlifters.
First in team event
Women's team chief coach Artashes Nersisyan says: "Our female team is writing a new page in its history. We have not had an experience of team competition, taking part in rating tournaments only to secure a berth at Olympic Games. We had champions in individual events but never as a team."
According to Nersisyan, absence of team approach was due to the lack of female weightlifters. "There were few girls who could be accepted to the national team. However, I do believe that this year's success will be a perfect stimulus to attract new athletes. People must finally understand that female weightlifting is not an evil. This is a profession that brings money. The more girls engage in sports, the better choice the country will have."
On the way to Rio
Nersisyan is sure that the women's team can win Olympic gold but there is still work to be done. The Summer Olympic Games will he held from August 5 to 21, 2016 in Rio de Janeiro. Armenia's female and male teams have secured 2 and 5 berths respectively.
"We must work and try to avoid injuries. Hripsime has a problem, as she performs in +75kg weight class which has no upper weight limit. She weighs 87kg, while the other athletes can weigh 120kg or even 130kg. Nazik still suffers from the consequences of the car accident. No one has surpassed her since 2009. She will possibly be able to repeat her previous records but we can't be sure.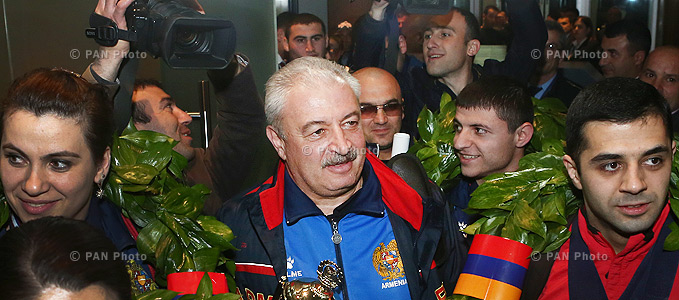 Men's team chief coach Pashik Alaverdyan says he would like all athletes of the team to become champions. "Our athletes' results at the European Championships give hope for a good performance at the Olympics. However, there is still much to do. We should work to gain advantage."
About psychology
Although there are psychologists who talk with the sportsmen during the trainings, Nersisyan says that a physically strong person is psychologically strong as well, while Alaverdyan doesn't see any need in communication with psychologists.
Nazik Avdalyan, European champion
Avdalyan won the champion's title in 2009. However, in 2011, she got a spine injury in a car accident and underwent a surgery. Avdalyan restarted training in 2015 to rank 14th at the World Championships. Now, she is a European champion in the weight category up to 69kg. Avdalyan is married and has a son.
"Returning to sports meant to spend less time with the family. Besides, I had some psychological problems after the injury. When I started training again, many people didn't understand why. However, my motto was 'everything is possible'.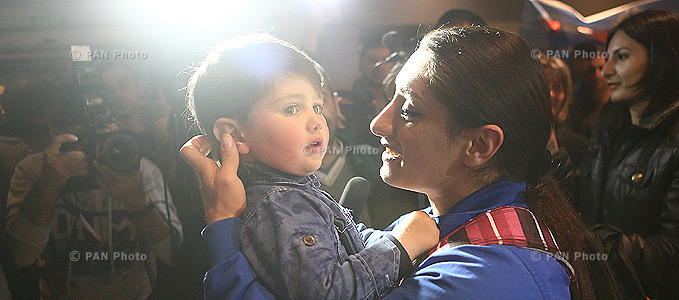 If you are afraid to approach the barbell, you had better stay aside, because this sport demands high spirit without doubts. Before lifting your weight, you follow the performance of your rivals and understand what you should do to put up a good show."
Andranik Karapetyan, European champion
Karapetyan (77kg weight category) finished 4th at the 2015 World Championships, winning a snatch bronze medal.
"I try not to think too much before the invitation. I just watch my previous performances, listening to relaxing music. When we learned about the latest tensions on the border, we were all ready to go and defend our land if needed. And during the Championships were did our best to win. Victories inspire and I wish to perform even better at the Olympics."
Hripsime Khurshudyan, European champion
Khurshudyan participated in London Olympics in 2012, winning bronze. She won bronze at 2007 World Championships and gold at 2009 European Championships. In 2016, she became a European champion. Khurshudyan is married and has a son.
"When I started training after a long break, I tried to convince myself that I am a former Hripsime - single and having no baby – to restore my freedom in sports.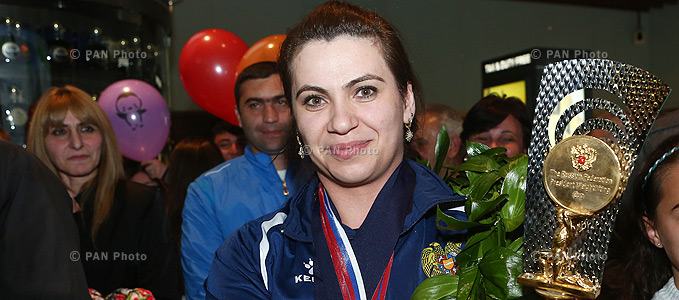 When entering a competition you should only think about your victory. I have two psychologists – my coach and myself. My major problem is not having enough weight, as many of my rivals are 20kg heavier than me. I must gain weight if I want to win gold or even silver."