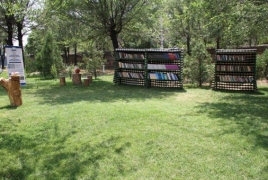 July 8, 2015 - 14:01 AMT
PanARMENIAN.Net - The biggest medical information hub in Armenia - the Republican Scientific Medical Library (RSML) - now functions as an eco-friendly facility as well. The garden created with VivaCell-MTS support becomes a venue for professional discussions, trainings and readings.
VivaCell-MTS has allocated AMD 2 million for laying out a garden and furnishing it with bookcases suited for different weather conditions in order to make the electronic databases available to the public. The eco-library has also received 5 tablets with installed licensed software and medical literature.
"The idea of creating and maintaining green zones is popular all over the world. This location is a perfect educational environment for those who appreciate the true value of health – for doctors," the company's General Manager Ralph Yirikian said.
The Republican Scientific Medical Library, established 76 years ago, features over half a million items – a selected collection of biomedical literature and informational resources. There are also electronic and printed medical publications: magazines, brochures, CDs, as well as audio and video materials.
"The open-air library stimulates reading, especially e-reading. The latter is of high importance as the Library mainly provides licensed medical e-books and magazines via the online database of the Springer Link publishing house. The open-air reading room will be a pleasant and motivating environment for reading," the director of the Republican Scientific Medical Library, Anna Shirinyan said.