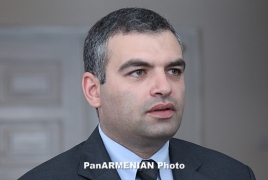 July 9, 2015 - 11:25 AMT
PanARMENIAN.Net
-
All the genocides of the 20th century, including the 1915 Armenian Genocide in the Ottoman Empire will be examined at the 12th conference of the International Association of Genocide Scholars, Armenian Genocide Museum Institute (AGMI) director Hayk Demoyan said.
"Genocides must be examined in comparison, enabling the scientific community to submit proposals to the political elite and experts of international law, so that humanity can develop more effective mechanisms and legislation for prevention of genocides," he told reporters in Yerevan.
According to Demoyan, even after the adoption of the Convention on the Prevention and Punishment of the Crime of Genocide by the UN, humanity keeps witnessing genocides.
"This international instrument has by no means prevented genocides committed after 1948, or genocidal acts taking place today in various locations," Demoyan said, adding that when the first measure under the Convention - warning – is not taken, punishment becomes a subject of political speculations.
He also mentioned that AGMI has been recently hosting Turkish visitors.
"The number of Turks visiting the Museum has drastically increased over the last 1,5 months. Interestingly, the new exposition of the museum has sparked interest among Turks. A similar trend was observed in 2009-2010," he said according to Panorama.am.