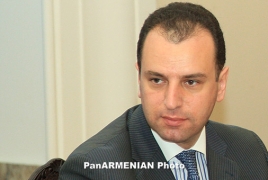 April 23, 2016 - 15:16 AMT
PanARMENIAN.Net - Many of those who fled the Islamic State persecutions in Syria and Iraq are children and grandchildren of those who marched that same Syrian desert to escape the Armenian Genocide a century ago, secretary of the Genocide Centennial Committee, Chief of Staff of the Armenian President's office said Saturday, April 23.
Vigen Sargsyan was addressing the audience at the Aurora Dialogues, organized under the auspices of the 2nd Global Forum Against the Crime of Genocide, currently underway in Yerevan.
"When one sees those similarities, one can only ask: how long is this going to continue?" the official said.
"We are proud that close to 20 000 refugees have easily integrated into our society in the last couple of years. As a government, we have tried to extend a hand and help them, providing health care and responding to what appears to be one the biggest per capita refugee waves in Europe."
Unfortunately, he said, the lessons learnt from the two main catalysts of the international society – to two world wars – "seem to be limited to regulations between the big and powerful only, while the weak and peripheral are left to suffer without any meaningful resort to law and justice."
"Aurora Dialogues and the Global Forum are two important steps in this big puzzle, sure to make vital changes in terms of hate speech, xenophobia and any form of discrimination, in case any of these happen in places which we consider to be too far away from us to worry about or to think about," Sargsyan said.
"The more sophisticated our instruments are, the higher level of responsibility falls upon us. This fight for each human life and each person oppressed and discriminated shall become more rigorous, our voices shall get louder, and our efforts shall be more tireless since the Holy Bible tells us: from the one who has been entrusted with much, much more will be asked."