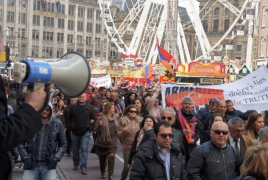 April 24, 2016 - 14:00 AMT
PanARMENIAN.Net - On the eve of the 101st anniversary of the Armenian Genocide on Saturday, April 23, Dutch Armenians staged a massive rally, starting from Amsterdam's Museumplein Square and progressing towards Beursplein square.
This was the second march by Dutch Armenians this month, following the one denouncing Azerbaijan's aggression against Nagorno Karabakh.
Some 1000 activists arrived in the Dutch capital to participate in the event, protesting Turkey's denialist policy and handing over informative brochures on the Genocide history to passers-by.
Many of the bystanders were already aware of the over 100-year-old massacres, while others asked questions seeking to learn more about the Armenians' fate in Ottoman Turkey.
The commemoration ceremony in Beursplein square started with a moment of silence, followed by addresses of prominent Dutch-Armenians and clergy members, as well as performances by a number of singers.