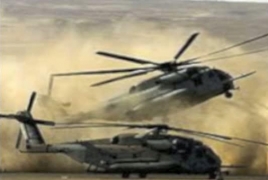 October 26, 2016 - 14:22 AMT
PanARMENIAN.Net - A suspected Syrian government aircraft has for the first time attacked Turkish-backed rebels battling Islamic State militants in Syria, Turkey says, according to BBC News.
A military statement said a helicopter dropped barrel bombs on the rebels in the village of Tal Nayif, south-east of Dabiq, killing two and wounding five.
Turkey's Foreign Minister Mevlut Cavusoglu said such attacks would not halt its operations against IS.
There was no immediate comment from the Syrian military.
Syria is not believed to have ground forces near Tal Nayif, but it has denounced Turkey's support of the rebel offensive with warplanes, tanks and artillery as a "dangerous escalation and flagrant violation of Syrian sovereignty".
Since late August, the rebels have driven IS militants out of the key border town of Jarablus as well as Dabiq, which holds great symbolic value to the jihadist group.
The Turkish government in Ankara says it hopes the operation will create a de facto buffer zone close to the border, to where some of the 2.7 million Syrian refugees sheltering in Turkey could return.
Ankara is also seeking to contain U.S.-backed Syrian Kurdish fighters, who it says are closely linked to the outlawed Kurdistan Workers' Party (PKK) in Turkey, BBC says.
After reports of the Tal Nayif attack emerged, Cavusoglu told reporters in Ankara that Turkey would not be deterred and that the rebels would press on to the IS stronghold of al-Bab, about 15km (9 miles) from their current position.