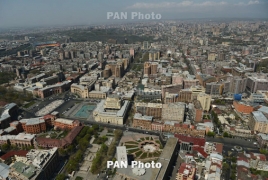 March 4, 2017 - 18:38 AMT
PanARMENIAN.Net - Armenia was placed the 114th in the Global Finance's ranking of the world's richest and poorest countries for 2016.
The tables use IMF data for per capita GDP, adjusted for purchasing power parity (PPP).
"GDP-PPP makes for a better comparison of living standards, because PPP takes into account cost of living and inflation rates, rather than just exchange rates, which may distort the real differences in income. This is the measure most economists prefer for comparing living conditions and economic strength across countries," Global Finance says.
Based on this principle, Armenia, with a per capita GDP (PPP) of $8,881, took the 114th position, lagging behind Georgia in the 108th, Azerbaijan in the 71st, Turkey and Iran in the 63rd and 70th, respectively.
The richest five countries in the world are, in order, Qatar, Luxembourg, Macao, Singapore and Brunei Darussalam.
Similarly, the poorest five are, in order, Central African Republic, Democratic Republic of the Congo, Burundi, Liberia and Niger.