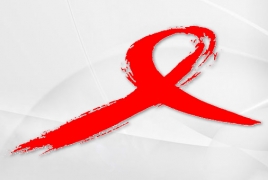 December 2, 2017 - 15:45 AMT
PanARMENIAN.Net - 10.1 in every 100,000 of the population were diagnosed with HIV infections in Armenia in 2016, the HIV/AIDS surveillance data, published by ECDC and the WHO Regional Office for Europe, revealed.
The country thus ranks the 10th by the number of HIV-infected persons in the Eurasian region.
According to the report, Russia is in the first spot with 60.6 in every 100,000 infected with HIV, followed by Ukraine, Belarus, Moldova and Georgia.
Azerbaijan has the least number of people diagnosed with the disease, with 5.7 for every 100,000 infected.
No information is available for Uzbekistan and Turkmenistan.
The HIV/AIDS surveillance data for 2016 show that the proportion of those who are diagnosed late is increasing with age. Early diagnosis is important because it allows people to start HIV treatment sooner, which in turn increases their chances of living a long and healthy life.
With a population of almost 1 billion people and an estimated 4 million people infected with HIV, India is thought to be the country with the largest number of HIV-infected people in the world.