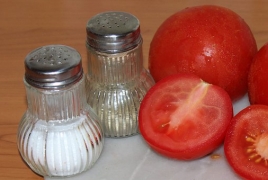 January 16, 2018 - 16:15 AMT
PanARMENIAN.Net - Scientists found that a high salt diet caused cognitive impairments in mice, and it could be the same for humans, ABC News reports.
Costantino Iadecola, director of the Feil Family Brain and Mind Research Institute at Weill Cornell Medicine in New York, said they fed the mice eight to 16 times their normal salt intake.
They then tested the mice using behavioural tests, and it did not take long for researchers to observe the effect of a high salt diet on mice.
"After about three months, the mice became demented," Dr Iadecola said.
"Mice are very curious and they like to look for new things, and so over time the mouse lost the ability to identify a normal object.
"When put in their cage and asked to find a quiet spot, the mouse did not remember where the quiet spot was.
"Then when the mouse was building a nest, which is something the mouse does daily, they were unable to do so."
The research, published in the latest edition of Nature Neuroscience, suggested humans would experience a similar response.
Dr Iadecola said the estimated two teaspoons of salt the average Australian eats each day could affect brain function over the long term.
However, the decline might not be as aggressive as they saw in the mice, who were given extremely high levels of salt.
"But probably over years and perhaps decades — as opposed to a few months for the mouse — even lower levels of salt may have a devastating effect," Dr Iadecola said.