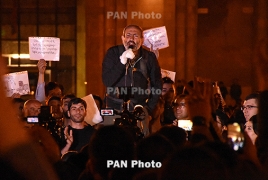 May 15, 2018 - 12:10 AMT
PanARMENIAN.Net - As surveys by Freedom House have persistently reported, democracy has been on the retreat around the world for the past few years. That's particularly true in Southeast Asia and Eurasia, where China and Russia appear to offer workable models of 21st-century dictatorship. So mass uprisings against corrupt and autocratic rulers last week in Armenia ought to be celebrated as badly needed good news, The Washington Post Editorial Board says in an article.
On Tuesday, the Armenian parliament voted to make opposition leader Nikol Pashinyan prime minister even though his supporters hold just nine of 105 parliamentary seats. The legislature was forced to act after hundreds of thousands of people thronged the streets of Yerevan, the capital.
The event, according to the article, resemble the democratic breakthroughs of the 1980s and '90s, when "people power" revolutions drove some dictators from their palaces, while others fell after underestimating the unpredictability of elections.
It will surely alarm the rulers of neighboring countries — Azerbaijan, in particular — that thought their repression of nongovernmental groups and independent media could prevent such upheavals.
According to the article, despite his low-key reaction, Russian President Vladimir Putin has cause for alarm: Any victory for democratic rule in the countries of the former Soviet Union offers an example of how Russia could change.
"Mr. Pashinyan, 42 , a former journalist and political prisoner, stirred rebellion by walking across Armenia to protest the attempt by former president Serzh Sargsyan to retain power by switching to the post of prime minister, a maneuver pioneered by Mr. Putin. The dissident-turned-leader says he will preserve Armenia's alignment with Russia. But his vows to fight corruption and hold democratic elections are intrinsically at odds with Putinism, the article says.
If  Pashinyan can survive and prosper, that offers a ray of hope in this dark political era, the authors conclude.