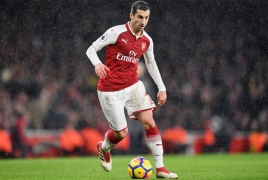 November 12, 2018 - 13:05 AMT
PanARMENIAN.Net - Armenian midfielder Henrikh Mkhitaryan came off the bench to strike Arsenal's equalizer against Wolverhampton Wanderers on Sunday, November 11, talkSPORT says.
Prior to the match, Mkhitaryan said the "culture" at Arsenal has changed since chief coach Unai Emery replaced Arsene Wenger in the summer.
Mkhitaryan said Arsenal fans are finally beginning to believe in the players again following Emery's arrival.
"It is not that a big thing has changed, it is only the fact of the manager," said Mkhitaryan, according to The Telegraph.
"But as well the culture changed a bit in the club and as well outside the club. Now people are believing more in ourselves because we are playing a bit differently, we are giving them confidence and playing the way they want us to play. We are scoring goals, winning games and it is the best feeling for the supporters."
Asked what Emery has changed at the club, Mkhitaryan added: "The playing style, the playing philosophy. Not a lot but he has just built on the base Arsene Wenger has built in 22 years. The players have accepted all the conditions. Everything is what Emery is expecting and asking from us."
On Sunday, Granit Xhaka played it short to Ramsey, he moved it back to Mkhitaryan and, when he was allowed to cross under no pressure and Pierre‑Emerick Aubameyang made no contact with his attempted header, the ball carried on into the far corner.