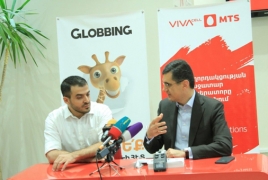 November 22, 2018 - 18:09 AMT
PanARMENIAN.Net - Millions of people around the world using online shopping opportunities know that Black Friday is a perfect day for online purchases. Armenias are no exception in this respect.
VivaCell-MTS, MobiDram and Globbing on Thursday, November 22 launched an innovative solution during a press conference at one of VivaCell-MTS service centers. The aim of the initiative is to make Globbing services more accessible and comfortable for online shoppers. The offer is available to all mobile service users using the MobiDram application, where the Globbing services are already available. And all the mobile subscribers, who use the Globbing services for the first time, will be provided with additional opportunities - the possibility to use "Y" tariff plan, in particular.
When presenting the offer, VivaCell-MTS General Manager Ralph Yirikian said mobile applications are a part of everyday life and include personal communication, payments and purchases, etc. "MobiDram online payment system, which has been operating for several years now, is constantly expanding its scope, and this joint offer with our partner Globbing, will be of great benefit to the public. People, who already use Globbing, while making online purchases via Globbing till December 31, will receive 4,000 AMD on their Globbing accounts for their next order, in case they make the payment for the parcel via MobiDram mobile app. And those who register for Globbing and use the service for the first time till December 31, 2018, will all be able to use VivaCell-MTS's "Y" tariff plan for 30 days, i.e. they will have unlimited internet when communicating with Viber, WhatsApp, Messenger, Zangi, Telegram, plus 5 GB Internet, as well as access to voice and SMS services, which is particularly convenient for online shopping and payments on mobile phones," added Mr. Yirikian.
Yirikian also said that Globbing fast service points will operate now also at the VivaCell-MTS Yerevan, Malatia 86/1 and Kapan, Shahumyan 11/38 service centers. In addition, Globbing account recharge via MobiDram will be done without any commission fees.
Speaking about the partnership with VivaCell-MTS, the Founding Director of Globbing David Harutyunyan particularly noted: "There couldn't be a better time for cooperation between VivaCell-MTS and Globbing, when the Black Friday, the biggest sales time, kicks off worldwide. This is an exceptional opportunity to register at Globbing and MobiDram, and get AMD 4000, become an international shopper, benefit from exceptional discounts, and use VivaCell-MTS "Y" tariff plan for a month. I am particularly glad for this partnership for VivaCell-MTS is known as an exceptional company for high social responsibility, and the motivation, values, and purposes of our companies fully coincide."
"Within the past three years tens of thousands of people have done their shopping online in immense volumes at beneficial terms. Before that people in Armenia did not have opportunity to benefit from the Black Friday. Globbing opened new possibilities to save money," added the Founding Director of the company.
MobiDram application can be downloaded to iOS and Android smartphones at AppStore and Google PlayMarket respectively.