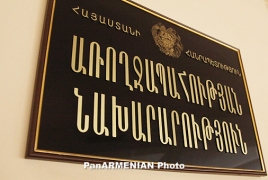 October 18, 2020 - 19:22 AMT
PanARMENIAN.Net - The Armenian Health Ministry warned Sunday, October 18 that the bodies of those killed in the battlefield, when left without proper care, pose an epidemic threat, including the outbreak of plague.
Those bodies, the Ministry said, may create favorable conditions where insects and wild animals carrying and disseminating infectious diseases can breed and reproduce.
According to Armenia's health authorities, infectious and dangerous pathogens can remain viable for a long time, which creates all the preconditions for outbreaks and epidemics.
The high mortality and infection rates of the plague are likely to cause mass contamination, the Ministry added.
Pollution of the environment, the reproduction of rodents that spread infectious diseases is a serious epidemic threat not only for the parties of the conflict, but also for neighboring countries, in particular, Iran, the Health Ministry said, citing the Araks river running along the Iranian border, which could cause widespread waterborne infection in settlements nearby.
The parties have agreed on a humanitarian ceasefire two times since the beginning of hostilities but Azerbaijan has failed to honor the agreement both times. Truce has been agreed upon for the evacuation of bodies and the exchange of prisoners of war.
Azerbaijan, with help from Turkey and Syrian and Libyan mercenaries deployed by Ankara, started a war against Karabakh (Artsakh) in the morning of September 27. The Armenian side has reported deaths and injuries both among the civilian population and the military. Foreign and local journalists too have been injured in Azeri shelling of towns and villages.