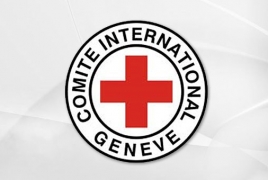 November 27, 2020 - 15:59 AMT
PanARMENIAN.Net - Reports claiming that Azerbaijan has captured 150 Armenian prisoners of war are fake, ICRC Armenia Office representative Zara Amatuni said Friday, November 27.
Amatuni, however, failed to reveal the actual number of Armenian POWs and captives in Azeri custody, citing confidentiality.
According to her, only the sides to the Nagorno-Karabakh conflict are authorized to reveal such figures.
Also Friday, Artsakh (Karabakh) Ombudsman Artak Beglaryan said 400 bodies of servicemen killed in the recent war in Nagorno-Karabakh have been recovered or returned to the Armenian side so far. Beglaryan added that he has obtained information that the Azerbaijani side has collected bodies of Armenian servicemen from various locations and is deliberately delaying their return, seeking to make internal tensions in Armenia worse and add to [the people's] psychological suffering.
Armenian Prime Minister Nikol Pashinyan, Russian and Azerbaijani Presidents Vladimir Putin and Ilham Aliyev on November 9 signed a statement to end the war in Karabakh after almost 45 days. Under the deal, the Armenian side is returning all the seven regions surrounding Nagorno-Karabakh, having lost a part of Karabakh itself in hostilities.