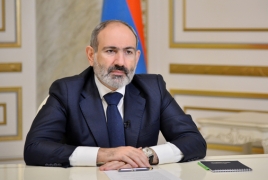 December 16, 2020 - 18:08 AMT
PanARMENIAN.Net - The Armenian side has obtained information that Russian peacekeepers too are among the Nagorno-Karabakh servicemen under siege near the villages of Hin Tagher and Khtsaberd, Armenian Prime Minister Nikol Pashinyan said Wednesday, December 16.
The situation around the two villages came to a head when Azerbaijan launched new offensives to capture them on December 11, having seized most of the region of Hadrut during the war. According to a trilateral statement signed by Armenia, Azerbaijan and Russia on November 9, the parties were supposed to remain at their current positions, which means both Hin Tagher and Khtsaberd should have remained under the Armenian side's control.
Pashinyan said there is a communications problem due to the location and "the events" in Karabakh.
The Armenian PM also confirmed that others from Karabakh have been captured in the same area. Earlier on Wednesday, Karabakh President Arayik Harutyunyan said "several dozen" people have been taken captive.
Pashinyan, Russian and Azerbaijani Presidents Vladimir Putin and Ilham Aliyev on November 9 signed a statement to end the war in Karabakh after almost 45 days. Under the deal, the Armenian side has returned all the seven regions surrounding Nagorno-Karabakh, having lost a part of Karabakh itself in hostilities.