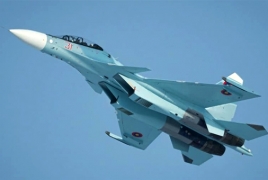 April 6, 2021 - 11:11 AMT
PanARMENIAN.Net - Armenia is focused on broad and long-term military-technical cooperation with Russia, which is in the long-term strategic interests of the two states, Armenian Prime Minister Nikol Pashinyan said in an interview with Interfax.
"Given that two Armenian-Russian groupings – the United Group of Forces (Forces) and the Joint Air Defense System in the Caucasian region of collective security – have been created on the territory of Armenia, and, that both countries are members of the CSTO, within which troops (collective forces) and joint groups have also been established, it is clear that Armenia is extremely interested in supplies from Russia in order to have modern weapons and ammunition, compatible with the Russian Federation and other allies in the CSTO," Pashinyan said.
"For that same reason, we are also interested in the delivery of weapons and ammunition to Armenia in the same configuration as those delivered to the Armed Forces of the Russian Federation."
Pashinyan also said Armenia is interested in the purchase of Su-30SM fighters and ammunition for them, under bilateral contractual documents and the program for the development of the national Armed Forces.
The Prime Minister also noted that decisions on issues of a new Russian loan for the purchase of weapons will be made depending on the results of army reforms currently being carried out.
Russian Ambassador to Yerevan Sergei Kopyrkin said earlier that Russia supports Armenia in the modernization of its Armed Forces. Back in February, Kopyrkin told reporters about the "very intensive contacts" between the Defense Ministries of Armenia and Russia in various directions.