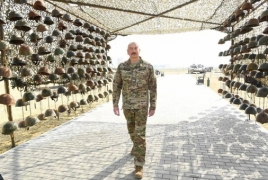 April 14, 2021 - 17:05 AMT
PanARMENIAN.Net - Armenian Prime Minister Nikol Pashinyan has responded to Azerbaijani President's opening of a "war trophy park" in Baku, noting that there is need for "certain psychological support."
On April 12, the President of Azerbaijan attended the opening of a "park" dedicated to Artsakh (Nagorno-Karabakh) war in Baku, where alongside Armenian military equipment seized during hostilities, wax figures of what Azerbaijan claims to be Armenian servicemen, as well as their personal belongings and the helmets of fallen Armenian troops were also displayed.
Pashinyan cited a poem by Armenian poet Ignat Mamyan to responde to Aliyev:
"I do not hate you, I feel sorry for you,
The way only the smart can bear to feel
For the crazy being accursing them
From the gloomy cage of the mentally ill."
"The statements of the Azerbaijani President are nothing new. There is fresh excitement now and a certain diagnosis, I believe, because establishing a museum with the bodies of fallen soldiers, taking photos against that background and showing it to the international and domestic community [means] there is need for 'certain psychological support'," Pashinyan said in parliament on Wednesday, April 14.
"And I think we should feel compassion for such people, rather than aggression and revenge."