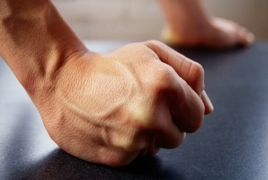 June 20, 2021 - 16:00 AMT
PanARMENIAN.Net - Verelk, also known as the the Rise Party or the Ascent party, on Sunday, June 20 revealed details about an incident involving its representatives at a polling station in the village of Azatashen, during which fires were shot from a gas pistol.
According to a statement, a Verelk proxy raised violations he noticed during the vote, and a fight broke out outside the polling station immediately afterwards. As a result, the proxy and a candidate for the National Assembly were hospitalized, the party said.
"We demand from the relevant agencies to conduct an objective and impartial investigation of the case," the party added in the statement.
Acting Prime Minister Nikol Pashinyan announced on March 18 that Armenia will hold snap parliamentary elections on June 20. The PM came under fire after signing a statement with the Russian and Azerbaijani Presidents to end the war in Nagorno-Karabakh almost 45 days after the start of the military hostilities. Under the deal, the Armenian side was forced to return all the seven regions surrounding Karabakh, having lost a part of Karabakh itself in hostilities.