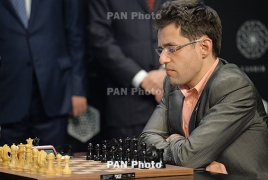 August 9, 2021 - 12:36 AMT
PanARMENIAN.Net - Armenian grandmaster Levon Aronian took the fourth place with 19 points at the Chessable Masters, the 8th event on the $1.6 million Meltwater Champions.
It was a curiosity that the 3rd place match was the same as the final of the Goldmoney Asian Rapid, which meant Vladislav Artemiev had a chance to make up for his heavy loss to Aronian in that event, chess24.com reports.
At first that didn't look on the cards on the final day of the Chessable Masters, since in the first game Levon traded into a much better ending and went about converting it confidently, with Black's advantage steady all the way up until move 56.
Chess is cruel, and after 57.Ke5! there was suddenly no way for Black to win, with the white king and knight comfortably handling the black pawns.
Vladislav used that escape as the springboard to victory, scoring a fine technical win in a rook ending in the next game.
Suddenly it was Levon who needed to hit back, but Vladislav's soon ensured he was playing for only two results. Levon cracked, and Vladislav clinched 3rd place.