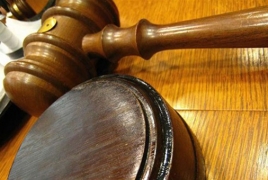 September 28, 2021 - 14:22 AMT
PanARMENIAN.Net - Armenia's Prosecutor General's Office is investigating more than two thousand criminal cases related to the hostilities in Artsakh (Nagorno-Karabakh) in the fall of 2020.
Cases have been initiated in the Investigative Committee of Armenia, the National Security Service, as well as the Special Investigation Service.
In particular, possible violations committed during recruitment and the replenishment of military formations, cases of desertion, illegal acquisition of weapons, ammunition and explosives, their delivery from Nagorno-Karabakh to Armenia, draft evasion, failure to comply with orders, as well as cases of self-harm and violations of the rules of combat duty are being investigated.
About 150 people, including the President of Karabakh and his adviser, Defense Army commanders, the former secretary of the Security Council have been questioned in connection with the battles that took place in the south of Karabakh and near Shushi alone. About two dozen inspections and confiscations have been carried out. Based on the evidence obtained, more than 800 people will be brought to justice.
Armenian Prime Minister Nikol Pashinyan, Russian and Azerbaijani Presidents Vladimir Putin and Ilham Aliyev on November 9 signed a statement to end the war in Karabakh after almost 45 days. Under the deal, the Armenian side returned all the seven regions surrounding Nagorno-Karabakh, having lost a part of Karabakh itself in hostilities.