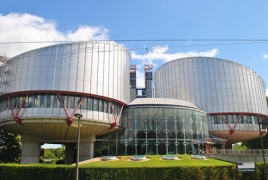 January 17, 2023 - 12:58 AMT
PanARMENIAN.Net - The European Court of Human Rights has decided to notify immediately the Committee of Ministers of the Council of Europe of the interim measure indicated to Azerbaijan at the request of Armenia on 21 Dec 2022 on reopening of Lachin Corridor, Armenia's Representative on International Legal Matters Yeghishe Kirakosyan said on Monday, January 16.
On December 22, 2022, Azerbaijan asked the European Court with to cancel the decision to apply an interim measure. At the same time, Azerbaijan demanded that interim measures be applied to Armenia, that is, "to take all measures within its jurisdiction aimed at adequate treatment of persons in need of emergency medical care on the territory of Azerbaijan in the places of temporary deployment of Russian peacekeepers and not create obstacles in this direction."
In response, the Office of the Commissioner for International Legal Affairs in December 2022 and January 2023 sent regularly updated information to the European Court on the difficult humanitarian situation in Nagorno-Karabakh in amid the closure of the Lachin corridor. At the same time, the Office of the Representative for International Legal Affairs applied to the European Court with a request to immediately send a notification to the Committee of Ministers of the Council of Europe about Azerbaijan's non-compliance with the decision of the European Court of December 21, 2022.
The European Court, taking into account the information submitted by the parties, on Monday, January 16fully rejected Azerbaijan's claims, leaving the decision of December 21, 2022 in force. The European Court also rejected the application of Azerbaijan to apply interim measures against Armenia, the Office of the Representative of the Republic of Armenia on International Legal Affairs said.
Since December 12, the sole road connecting Nagorno Karabakh to Armenia - the Lachin Corridor - has been blocked by self-described Azerbaijani environmentalists. Karabakh residents have reported food and fuel shortages, while hospital patients don't have access to essential medicines, with only a handful allowed transfer to facilities in Armenia proper.