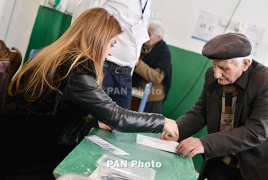 April 2, 2017 - 14:43 AMT
PanARMENIAN.Net - The Citizen Observer initiative has revealed 162 violations during the preparation for voting in Armenian parliamentary election as of 8:15am on Sunday, April 2.
In particular, 17 district election commissions failed to start operations on time, 15 polling stations were improperly equipped, 18 district election commissions experienced technical problems, 11 district election commissions had problems with voting booths and the confidential voting terms were not observed by 18 district election commissions.
Polling stations opened across Armenia in parliamentary elections at 8:00am, set to last 12 hours.
Nine political forces, including 4 blocs and 5 parties are running for seats at the National Assembly - Republican, Armenian Revolutionary Federation Dashnaktsutyun, Armenian Renaissance, Free Democrats and Communist parties, as well as Tsarukyan, YELQ, ANC-PPA and Ohanyan-Raffi-Oskanian blocs.
You can follow the course of the elections live on PanARMENIAN.Net