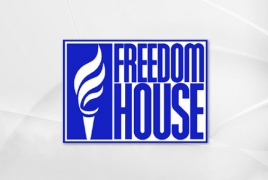 April 28, 2017 - 14:44 AMT
PanARMENIAN.Net - The U.S.-based democracy monitor Freedom House says only 13 percent of the world's population live in countries with a free press.
In its annual report released on April 28, the nongovernmental group says global press freedom declined in 2016 to its lowest point in more than a decade due to continued crackdowns on independent media in authoritarian states and unprecedented threats to journalists and media outlets in major democracies.
The report -- titled Freedom of the Press 2017: Press Freedom's Dark Horizon -- assesses the degree of media freedom in 199 countries and territories to classify each as either "free," "partly free," or "not free."
The report ranked Armenia 137th, classifying it as "not free."
Georgia, witch was named "partly free", continues maintaining regional leadership. Turkey (163rd spot), Iran and Azerbaijan who share the 190th spot were ranked "not free".
Norway, Netherlands, Sweden, Belgium, Denmark, Island topped the list as "free" in terms of media freedom.