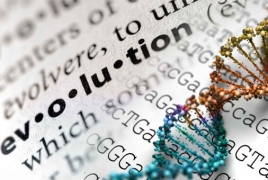 May 13, 2017 - 16:10 AMT
PanARMENIAN.Net - 34% of Armenians say they believe in evolution – that is, that humans and other living things have evolved to their present state over long periods – rather than that humans have existed in their current form since the beginning of time, Pew Research Center's survey revealed.
On the other hand, 56% believe humans and other organisms have existed in their current forms since the beginning of time.
Respondents who say they believe in evolution were asked a follow-up question: Do you believe evolution was guided by a supreme being, or do you instead believe that living beings evolved through natural processes such as natural selection?
In response, 13% of Armenians said humans have evolved under the guidance of a supreme being, just slightly lower than the share who believe in evolution due to natural processes (18%).
Furthermore, when asked to choose between two statements – that science will eventually "provide an explanation for everything," or that science "will never be able to explain everything" – 47% of Armenians chose the first option, while 49% favored the second one.
In comparison, 58% of respondents believe in evolution in Georgia, 65% in Russia, and 83% in the Czech Republic.
Read also: 42% of Armenians think contraceptive use is morally wrong: survey