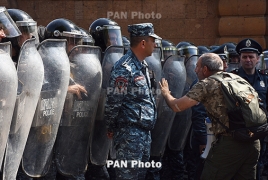 May 3, 2018 - 11:47 AMT
PanARMENIAN.Net - Armenia appears at last to be breaking with its post-Soviet malaise and embracing democratic change, thanks to a grass-roots movement that has found a way, for now, to straddle Russia and the West, journalist and novelist David Ignatius says in an article published on The Washington Post.
"Videos circulating on social media Wednesday captured a country embracing the reform movement headed by Nikol Pashinyan, who is seeking to replace [ousted prime minister Serzh] Sargsyan," Ignatius says.
"If Pashinyan succeeds in establishing a new government, it will be in large part because the police and army refused to open fire on the protesters who turned out in huge numbers to support him. This refusal to kill fellow citizens is often the fulcrum of social change.
According to the article, Pashinyan broke through the post-Soviet morass for several reasons, his reform movement colleagues argue.
"First, his movement has been nonviolent and broadly based, from young people to grandmothers; "Arms up," symbolizing civil disobedience, became a slogan of the protesters who joined Pashinyan's march on Yerevan last month that culminated in Sargsyan's resignation. Second, Pashinyan avoided taking sides between Russia and the West. He has walked a narrow line in what one reform leader told me was an "Armenia-centric" approach. He has reassured Moscow by saying that he doesn't intend to withdraw from military and trade pacts with Russia if he becomes prime minister. At the same time, his pro-democracy movement has roused sympathy in Europe and the United States, offering the prospect of wider friendships for the small, embattled nation," the article says.
"Pashinyan's movement promises change, but as is often the case with grass-roots uprisings, the details are fuzzy. His group is called "Civil Contract," built on a pledge that a new government will deliver specific reform commitments to the people. Even his movement's supporters admit they aren't sure yet what that agenda might include. But in the excitement of Wednesday's [May 2] mass protest, the details could wait."