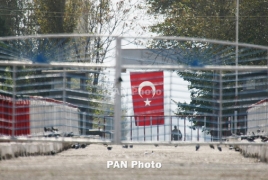 October 17, 2018 - 18:01 AMT
PanARMENIAN.Net - Group of unknown individuals was arrested on the Armenian-Turkish border during the attempt to illegally cross to Armenia. The information was passed by the press service of Russian Federal Security Service's Frontier Department in Armenia. The incident took place on the night of October 16.
As stated in the announcement, according to the intentions of the illegals, they were going to come close to the Aras River during night hours and quickly cross the border. However, as a result of professional actions of Artashat frontier detachment, another attempt to break Armenian-Turkish border was suspended.
According to initial information, the arrested are from South Asia. Special bodies will investigate the motives of the illegals. The arrested will be handed over to RA law enforcement bodies. There were in total of 4 illegals.
More similar activities were registered on the Armenian-Turkish border recently. During the recent 3 days, 6 people attempting to illegally cross the border were arrested.
On October 15 and 14, 1 Turkish and 1 Iranian citizens attempted to move further to the territory of Armenia after illegally crossing the border.
The Turkish citizen, who was arrested by the Gyumri frontier detachment on October 15, was later on discovered to be Kurdish by origin. According to initial information, the illegal attempted to hide in Armenia as he tried to escape from the Turkish law bodies for his serious crimes.