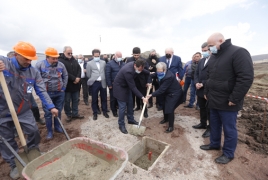 April 15, 2021 - 13:22 AMT
PanARMENIAN.Net - Armenia is building its first sanitary landfill for solid waste disposal in Hrazdan, Kotayk province, according to information provided by the Ministry of Territorial Administration and Infrastructure. Minister Suren Papikyan and the European Union Ambassador to Armenia Andrea Wiktorin attended the event to mark the formal launch of the construction of the landfill on Wednesday, April 15.
The construction of the landfill with modern solid-waste management processes near the Yerevan-Sevan highway, will cover the collection and disposal of municipal solid waste and will provide major environmental and social benefits for local residents and businesses.
"This important development is in line with the EU-Armenia CEPA agreement on environmental protection and waste management, contributing to the Green Deal. The Green recovery is an important investment to our future and it provides many opportunities for businesses and jobs for Armenian citizens. This project will help several local communities of Kotayk and Gegharkunik region to have integrated solid waste management system and improve waste collection system, including sorting and recycling and provide new opportunities to the local businesses.' marked the EU Ambassador during her speech.
The construction is co-financed by the European Union, European Bank for Construction and Development and E5P. The EU-compliant solid waste landfill in Hrazdan will serve 12 municipalities. The entire project is worth €11 million, including €5.5 million in loan and €5.5 in grunt finds. The landfill is expected to be ready for use in 2022.