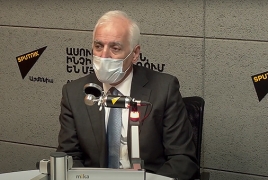 September 16, 2021 - 14:01 AMT
PanARMENIAN.Net - Drones produced in Armenia do not meet the needs of the army, Minister of High-Tech Industry Vahagn Khachaturyan has said in an interview with Sputnik Armenia.
"But I wouldn't see a major problem here, because people are just becoming more active, they are just seeing the prospects. [They] already know that the Ministry of Defense needs their products, and given that fact, they can already think about serial production," Khachaturyan said on Wednesday, September 15.
The Minister noted that all the drone manufacturers in Armenia are aware that the country is ready to acquire their products.
10 companies are currently working on unmanned aerial vehicles, and some of them have even reached the testing phase. Khachaturyan belives, however, that military drills and maneuvers are the best in terms of offering a decent ground for testing new products.