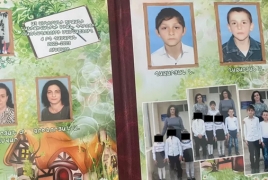 September 30, 2023 - 14:20 AMT
PanARMENIAN.Net - The two little brothers, aged 8 and 10, who were killed in Azerbaijan's aggression against Nagorno-Karabakh, will be burried in the Armenian town of Masis on September 30, former member of parliament Naira Zohrabyan reveals.
Mikayel and Nver Ghazaryan were from the village of Sarnaghbyur, where five civilians, including three children, were killed by the Azerbaijani military.
The other child's name was Davit Aleksanyan.
On September 19, Azerbaijan launched a military offensive against Nagorno-Karabakh, which left hundreds of Armenians killed and thousands of others displaced. On September 20, the authorities of Nagorno-Karabakh agreed to a ceasefire on Azerbaijan's terms, including the dissolution of the Defense Army. On September 18, President of the Republic of Artsakh Samvel Shahramanyan signed a decree, according to which the Republic of Nagorno-Karabakh (Artsakh) will cease to exist by January 1, 2024.